Podcast: Play in new window | Download
Subscribe: Apple Podcasts | RSS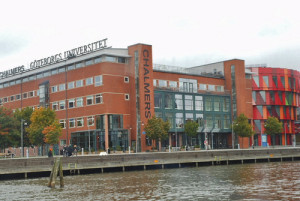 We consider engineering education from a European perspective in this episode of The Engineering Commons.
Our guest for this episode is Sebastian Ahlström, a civil engineer who is pursuing a masters degree at Chalmers University of Technology in Gothenburg, Sweden.
Sebastian spent the past year working as an intern for the Minnesota Department of Transportation, or "min-dot", here in the States.
An interest in buildings and construction led our guest to pursue a degree in civil engineering.
In Sweden, high-school students have to decide whether they are going to pursue a 3-year bachelors degree or a 5-year masters degree. Unlike academic programs in the US, the bachelors degree does not necessarily prepare one for acquiring a masters degree.
Sebastian reports having to write a thesis as part of his bachelors degree, as opposed to completing a senior project.
Having spent a year working on road construction, our guest has decided he'd rather work on erecting buildings. A valuable insight resulting from hands-on experience!
It is common in Sweden for students to wait one to three years after graduating from high school before beginning their college education.
Grades in Swedish universities are almost entirely based on the results of final exams, with little weight or emphasis given to homework, quizzes, and mid-terms.
Brian mentions the Swedish disporia in Minnesota, which refers to a region where Swedish emigrants have gathered.
Sebastian struggled with the units of measure used here in the US, much preferring the metric system used elsewhere in the world.
The group briefly discusses the difference between a foot-pound (energy) and a pound-foot (torque). Per Wikipedia: "Both energy and torque can be expressed as a product of a force vector with a displacement vector (hence pounds and feet); energy is the scalar product of the two, and torque is the vector product."
We talk a bit about job opportunities in Sweden and the European Union.
Sebastian can be reached at sebastian.p.ahlstrom –at– gmail.com.
Thanks to Michael Coghlan for the photo titled "Chalmers Campus (Gothenburg University)." Podcast theme music provided by Paul Stevenson