Podcast: Play in new window | Download
Subscribe: Apple Podcasts | RSS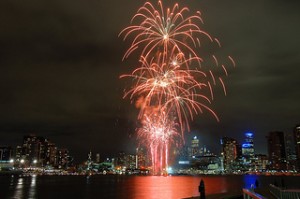 Jeff, Adam, and Carmen discuss the highlights and back stories from last year's episodes of The Engineering Commons podcast.
Please help us improve the podcast by filling out our

2014 Listener Survey!
Carmen is hoping that when he moves into his new house, and can convert the Dr. Suess bedroom into a office, he will be able to avoid snarky comments about his audio quality!
Jeff is a mechanical engineer from Indiana, Adam is a civil engineer from the Northern Midwest, and Carmen is an electrical engineer living in North Carolina. Brian, who could not join us for this episode, is an electrical engineer from Minnesota.
We learn from Adam that sea level is determined by a rather complicated set of equations that determine a vertical datum. Not sure which obelisk Adam was talking about, but there is one located in North Dakota showing the height of past floods.
We talked about "Time" in Episode 21, focusing on ways to save time, and considering how seasonal and calendar events influence engineering operations.
Adam notes that a Caterpillar D8 with a rear ripper can claw through ice, but the expense is high.
In Episode 22, we discussed "Empathy", and why engineers may be less empathetic than those in other professions.
Former co-host Chris Gammell announced he was leaving the show in the next episode, titled "Priorities."
Chris and Jeff talked with guest Jim Stroup about "Leadership" in Episode 24.
We introduced three new co-hosts (Adam, Brian, and Carmen) in Episode 25, titled "Spark."
Ann McMahon was our guest for the episode titled "Elementary Engineering," in which we talked about programs that introduce engineering to elementary, middle school, and high school students.
We considered how engineers acquire their "Skills" in the following show.
In a light-hearted episode titled "Sanity," the four co-hosts (Adam, Brian, Carmen, and Jeff) talked about the activities they enjoy when outside of the engineering office.
For Episode 29, titled "Intuition," we considered how engineers use their intuitive senses.
Guest Clay Coons talked about some of his adventures traveling abroad in the episode "Travel."
We discussed how "Crowdfunding" might influence engineering development and scientific research in Episode 31.
Jeff references a Forbes article about hardware becoming the new software.
Carmen mentions the CastAR project being developed by Jeri Ellsworth's company, Technical Illusions.
In our episode "Fitting In," we talked about how engineers and non-engineers can better work together in a harmonious manner.
Our journey through past shows is compared, by Carmen, to the American Top 40 music countdowns once hosted by Casey Kasem.
Sebastion Alstrom was our guest for "Civil in Sweden," an episode in which we discussed engineering education in Europe.
The group expressed concern over whether instructional episodes like "Accounting for Engineers" are too dry for most listeners.
We reviewed the need to share our engineering insights during an episode titled "Knowledge Network."
In "Ham Nation," guest Alan Wolke regaled us with stories of his engineering career, and his adventures with amateur radio.
David Goldberg was our guest for Episode 37, titled "Emergent Expectations." In that show, we discussed the ever changing roles that engineers are expected to assume in society and business.
Guest Bill Porter returned to the podcast for a second time, talking with us about his experiences building robots that are designed to go "Underwater."
Akira Tokuhiro provided us with an overview of "Nuclear Power" in Episode 39.
We chatted with guest Stefan Jaeger about his book, The Jackhammer Elegies, in the episode "Engineering Fiction."
Sophi Kravitz appeared as a guest in the episode "Going Solo," in which we discussed heading out on your own as an independent contractor.
In Episode 42, we talked with guest Erica Lee Garcia about the process improvement technique known as "Six Sigma."
We're none too sure about Adam's suggestion for a new motto… "We're here to fill in the void!"
Chris Gammell returned to The Engineering Commons as a guest for Episode 43, telling us about his new educational program in an show titled "Context."
Contextual Electronics starts its first full session on January 20, 2014.
We attempted to talk about "Ambiguity" in our next episode, which turned out necessarily vague in its generalizations?
In the final episode of 2013, we talked with Anthony Fasano about achieving "Success" in one's engineering career.
We learn that Carmen bought some broccoli and a chocolate bar when he returned to Wegmans, his favorite grocery store in Buffalo, New York, over the holidays.
Adam and Jeff talk about preparing for the professional engineer (PE) exam.
Books mentioned on The Engineering Commons in 2013:
Thanks to Chris Phutully for the photo titled "2013 Docklands Winter Fireworks (Fifth Friday Night)." Podcast theme music provided by Paul Stevenson.