Podcast: Play in new window | Download
Subscribe: Apple Podcasts | RSS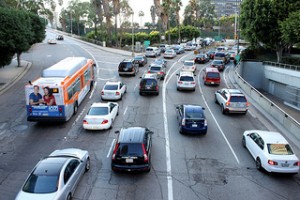 Adam leads us through some key concepts related to traffic engineering in this episode of The Engineering Commons podcast.
Brian has some practical reason for looking forward to self-driving cars.
During 2013 the United States experienced 32,719 motor-vehicle related fatalities.
Self-driving cars may have a disruptive effect on the auto insurance industry.
Our guest for this episode is Adam, a traffic engineer who works for a Midwestern state's Department of Transportation. In addition to being a licensed professional engineer, our guest also co-hosts a popular engineering podcast.
Adam views traffic engineering as having two parts: (a) handling issues related to the design, installation, and maintenance of road signage, signals, and lighting; and (b) being a advocate for drivers as roads are planned and developed.
Pneumatic tubes, laid across the roadway, are but one means for estimating traffic volume.
A common measure of traffic volume is annual average daily traffic (AADT).
Economic impact studies can help justify roadway expenditures, as governmental agencies typically receive no additional revenue as a result of improved traffic flows or increased safety.
Jeff describes an nearby interstate bridge that has been closed for a month, and wonders about the economic cost to his home state.
The annual average daily traffic seen on US interstates is widely varied.
A graphical representation of relationships between traffic speed, flux, and density is provided by a fundamental diagram of traffic flow.
Traffic can be held up by curious (and slow-moving) observers known as rubberneckers or lookie loos.
Shockwave theory helps explain the accordion effect of some traffic jams.
Intelligent transportation systems use advanced information collection and processing capabilities to evaluate and coordinate traffic flows.
Freeway volume may be regulated using ramp meters.
Another means for regulating traffic flow is the use of high-occupancy toll lanes
Oregon is investigating mileage taxes in the hopes of raising additional funds for road and bridge maintenance.
Roundabouts seem to be gaining in popularity as a means for regulating traffic at road intersections.
Automated traffic lights have been used in the United States since the late 1890s for controlling traffic flows.
Various means are available for programming traffic signals.
Thanks to Prayitno Hadinata for the photo titled "LA traffic jam = daily occurence!" Podcast theme music by Paul Stevenson.