Podcast: Play in new window | Download
Subscribe: Apple Podcasts | RSS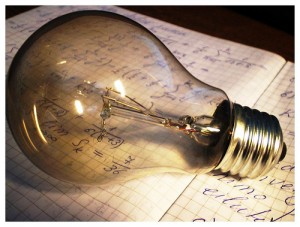 Electrical engineer Bob Schmidt joins the discussion of how engineers convey important concepts without using words.
Beyond writing down a few words to remind him of key details, Brian likes to dive straight into analysis or development when he has a new design idea.
Brian often uses LTSpice to analyze electrical circuits.
A debate ensues about the importance of being "neat" while making design sketches, and how the purpose of such drawings differs between mechanical and electrical engineers.
Our guest for this episode is Bob Schmidt, who previously joined us to talk about "Troubleshooting in Episode 48." Bob is the author of "An Engineer's Guide to Solving Problems."
We mull over Chris Gammell's recent comment (at 9:39 mark) that the NPR radio show "Car Talk" was never specifically about cars, but rather about the process of troubleshooting automotive problems.
Jeff shares a troubleshooting story related to replacing a water spigot on the outside of his house.
Carmen, Brian, Adam, and Bob take turns telling their own horror stories about plumbing.
The importance of eye protection is emphasized by some misadventures endured by Brian and Carmen.
Jeff shares a quote by Heather Martin about the relationship between drawing and thinking.
Our guest argues that "Ideas with Fewer Words" would be a more accurate description of how engineers use figures and diagrams.
Bob is especially irritated by engineers who fail to include units on their graphs.
Block diagrams can be useful in organizing thoughts about system inputs and outputs.
Jeff shares his experience of trying to implement IDEF0 for documenting manufacturing processes.
While whiteboards are good for gathering group input, Bob emphasizes the need to quickly save the results before the whiteboard can be erased, causing critical notes to be permanently lost.
Jeff and Bob lament the difficulty of keeping track of one's ideas over the years.
Describing a figure as it is drawn on the whiteboard can help promote a common understanding of the figure's meaning, claims Jeff.
Mind maps can help organize seemingly unrelated ideas and thoughts.
Bob creates lists in Excel to capture his ideas.
Dan Roam's book, "The Back of the Napkin: Solving Problems and Selling Ideas with Pictures," is mentioned by Jeff.
Bob and Jeff talk about drawing on paper napkins; is it just an "engineering" thing?
Our guest shares his success in using "annotated photographs" to share information with colleagues.
Forward looking infrared (FLIR) images have proven useful for Brian in his professional work.
Bob notes the growing interdependence of all the engineering fields.
Coming out of college, Jeff interviewed with Cray Computer, and was disappointed to learn that they mostly needed help with thermal issues.
Jeff shares another troubleshooting story, this time related to his problems establishing good TV reception.
Thanks to Ramunas Geciauska for use of the photo titled "Idea Bulb." Podcast theme music by Paul Stevenson.