Podcast: Play in new window | Download
Subscribe: Apple Podcasts | RSS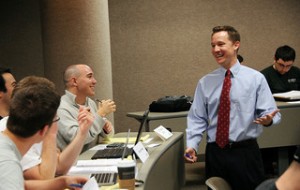 Michael Lachman, who started his career as an aerospace engineer, leads us through the pros and cons of following up an engineering degree with an MBA.
Adam doesn't have much interest in business, so he doesn't think he's a likely candidate to pursue an MBA (Master of Business Administration) degree.
Our guest for this episode is Michael Lachman, Founder and President of EyeQ Research, a consulting firm that provides ophthalmic medical device manufacturers with market research, industry insights, and business guidance.
As he was growing up, Michael was inspired by the efforts of the United States' space program to land a man on the moon.
Michael started his career with Lockheed Corporation, working on feedback control systems.
Much of our guest's work for Lockheed involved simulating spacecraft dynamics in software code, which he dutifully did by writing programs with the FORTRAN programming language.
Michael pursued a master's degree in mechanical engineering, figuring that an MSME degree would provide him with a more diverse set of career opportunities.
Jeff and Michael worked together at Baxter Travenol (now Baxter International) for a short period of time, both having had their graduate design projects at Stanford funded by the company.
Despite wearing three-piece suits to work, Jeff and Michael found their work atmosphere in the mid-1980's to be a far cry from the 1960's era portrayed in the Mad Men television series.
Students are typically required to take the Graduate Management Admission Test (GMAT) as a condition of applying to a business school.
Our guest reports that going to business school on a part-time basis, while working a full-time job, is a difficult task.
Already possessing strong quantitative skills from his engineering coursework, Michael elected to attend Northwestern University's Kellogg School of Management, so that he could benefit from the school's emphasis on marketing and case studies.
Certain employers place a great emphasis on where one obtains their business degree, so it's a good idea to investigate corporate hiring practices before committing to any particular university's MBA program.
MBA programs are often compared based on the rankings they receive from the magazine US News and World Report.
Universities conferred 74 percent more business degrees in the 2012-2013 school year than they did just eleven years prior. Brian wonders if this means that the MBA degree has been significantly devalued.
Receiving appropriate financial compensation for one's enhanced skill set (in this case, through the acquisition of an MBA) often requires finding a new employer.
A typical MBA program has courses that fall into one of three broad categories: analytical, functional, and ethical.
Several years after receiving his MBA, Michael was hired by an investment banking firm.
The efficient market theory claims that, at any given time, all information about a firm and it's financial prospects are immediately factored into the company's stock price.
Michael covered the ophthalmic medical device as a research analyst. Ophthalmology deals with the anatomy, physiology and diseases of the eye.
In 2005, our guest started his own consulting firm; this allowed him to continue performing the market research he enjoyed, but without having to make stock recommendations.
The cost of MBA programs has skyrocketed in recent years, much as with other educational programs.
Opportunity costs reflect the value of foregone possibilities; that is, what benefits you could have enjoyed by pursuing the "next best" alternative.
Our guest suggests that engineers take a rational look at their career objectives, and the possible economic outcomes, before embarking on an MBA program.
Michael can be reached through the e-mail address found on his website.
Thanks to the Tulane Public Relations for the photo titled "Business Class." Podcast theme music by Paul Stevenson.