Podcast: Play in new window | Download
Subscribe: Apple Podcasts | RSS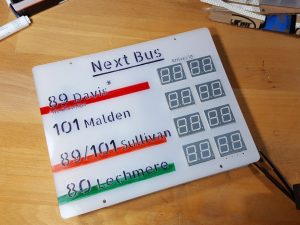 We catch up with Sam Feller (who previously joined us in Episode 70), discussing his interests, projects, and latest entrepreneurial ventures.
Having left industry to pursue an academic career, Jeff isn't chomping at the bit to move back into the entrepreneurial world.
Our guest for this episode is Sam Feller, a mechanical engineer who may be better known to our listeners as the "Awkward Engineer" from Episode 70.
Sam continues to run his Awkward Engineer website as a side project, selling widgets and gadgets that are designed to fascinate and entertain the engineering mind.
More recently, Sam has been working with WrightGrid in designing and producing solar-powered charging stations.
Skills acquired from pursuing his hobbies have helped Sam in his more recent entrepreneurial efforts.
Having "fried" his BeagleBone, Sam has been developing his bus stop sign using the Particle device platform.
The Python package Beautiful Soup is handy for parsing HTML and XML feeds.
Sam accesses bus arrival times using the NextBus API.
Our guest was kind enough to spend time with us in the middle of his family vacation near Cape Canaveral, Florida.
Those interested in learning to program micro-controllers will find a lot of online support for the Arduino platform, says Sam.
Listeners wishing to reach Sam can do so through the contact page on the Awkward Engineer website.
Thanks to Sam Feller for use of his untitled bus sign photo. Opening music by John Trimble, and concluding theme by Paul Stevenson.