Podcast: Play in new window | Download
Subscribe: Apple Podcasts | RSS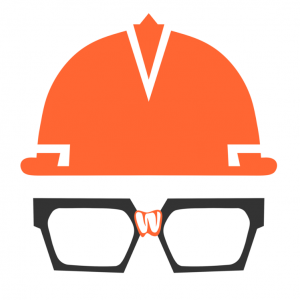 In this episode of The Engineering Commons podcast, we talk with civil engineer Grady Hillhouse, producer of YouTube's Practical Engineering channel.
Carmen has been known to wield a reciprocating saw as he refines his woodworking skills.
Our guest for this episode is Grady Hillhouse, a professional civil engineer from Austin, Texas who runs the Practical Engineering channel on YouTube.
Grady spends much of his professional time working on dams and hydraulic structures.
Extending his early woodworking videos, Grady first dabbled in the area of engineering outreach with a YouTube video describing a dams and reservoirs exhibit that he built for a kindergarten class taught by his wife.
Another Career Day demonstration built by Grady was an exhibit explaining tuned mass dampers.
Grady reveals that his video narrations are almost completely scripted, and that it takes about a month for him to produce a new video.
In producing his videos, Grady makes use of the following software tools: Vegas, Audacity, Inkscape, and Gimp.
Grady's video about mechanically stabilized earth has garnered over half a million views.
One of the more challenging projects undertaken by our guest has been a DIY Watt Balance.
The Hydraulic Press channel released a video of mechanically stabilized earth being crushed, with a hat tip to the Practical Engineering channel.
Grady mentions the Hyatt Regency walkway collapse as a topic he'd like to cover in a future video.
Our guest likes watching Ben Krasnow's Applied Science channel, Destin Sandlin's Smarter Every Day, Cody Reeder's adventures on Cody's Lab, Marc Spagnuolo's Wood Whisperer, machining on Clickspring and This Old Tony, woodworking with Frank Howarth, John Heisz, Matthias Wandel, and Izzy Swan, and the AvE channel (NSFW). He also enjoys listening to the 99% Invisible podcast.
Listeners can go to 11foot8.com to see videos of trucks losing their battles with a low overpass bridge in Durham, North Carolina.
Carmen mentions an interview with Forrest Mims from The Amp Hour podcast.
Grady describes the River Analysis System software put out by the U.S. Army Corps of Engineers.
Listeners wishing to contact Grady can find an email address on his website: practical.engineering.
Thanks to Grady Hillhouse for use of the Practical Engineering logo. Opening music by John Trimble, and concluding theme by Paul Stevenson.