Podcast: Play in new window | Download
Subscribe: Apple Podcasts | RSS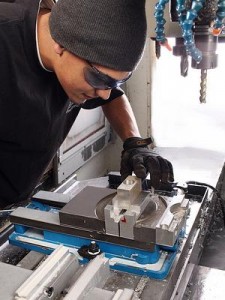 We talk with aeronautical engineer Mark French about degrees and careers in Engineering Technology, as well as delving into wind tunnels, guitars, and how to launch a ping-pong ball at supersonic speeds.
While Carmen is unsure if he's a technologist, he's pretty certain that Daft Punk is Technologic.
Our guest for this episode is Mark French, an Associate Professor of Mechanical Engineering Technology at Purdue University.
A guitar builder in his spare time, Mark has written two books about guitars: Engineering the Guitar: Theory and Practice and Technology of the Guitar.
Many Engineering Technology students transfer in from an engineering program, having found the typical engineering curriculum too abstract.
Prior to completing his undergraduate degree, Mark worked as a technician in Virginia Tech's Stability Wind Tunnel.
After graduation, our guest worked as a civilian engineer at Wright Patterson Air Force Base in Dayton, Ohio.
While working for the Air Force, Mark investigated aeroelasticity, optimization and photomechanics.
Moving into the corporate world, Mark took a managerial job for Lear Corporation, where his consumption of Tums increased considerably.
Our guest moved to an academic job prior to the economic collapse of the auto industry.
Mark leads us through a brief discussion of academic ranks within the United States.
We again mention the Grinter Report (previously discussed in our episode with guest Dave Goldberg), which permanently altered the focus of engineering education.
Mark identifies some of the differences between engineering and engineering technology curriculums.
There appears to be a lot of overlap in the jobs that engineers and engineering technologists can compete for in today's industrial workplace.
Carmen describes a History Channel documentary about designing and building the Yeti roller coaster at Walt Disney World. ( see this YouTube video, starting at about 1:25:00.)
Jeff mentions the book "Shop Class as Soulcraft: An Inquiry into the Value of Work" by Matthew Crawford.
Technology students are not eligible to take the Fundamentals of Engineering (FE) exam that is required to obtain a Professional Engineering (PE) license. (Commenter David notes that this ruling may vary from state to state.)
Mark's brush with internet fame has come from his involvement in the design and construction of a supersonic ping-pong gun.
Videos of the ping-pong gun are available showing the device operating at normal speed, or in super-slow motion.
Mark gives good marks to the performance characteristics of Double Happiness (DHS) ping-pong balls.
The ping-pong shooter was publicly announced via a short paper submitted to the Arxiv repository.
A recent MythBusters episode constructed a supersonic ping-pong cannon. While Mark got a small credit at the end of the show, alas there was no such glory for grad students Jim Stratton and Craig Zehrung.
Lighting a charcoal grill with liquid oxygen is another way to gain internet attention.
As a result of his interest in guitars, Mark has led guitar building workshops, and also offers a semester-long course in guitar construction.
If you want to refresh your engineering skills, you can take a look at the many videos on Mark's YouTube channel (PurdueMET).
Mark can be reached via email: rmfrench ++at++ purdue.edu
Thanks to Andy Malmin for the photograph titled "Nacho on VF-2 Mill." Podcast theme music by Paul Stevenson.