Podcast: Play in new window | Download
Subscribe: Apple Podcasts | RSS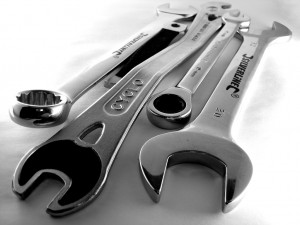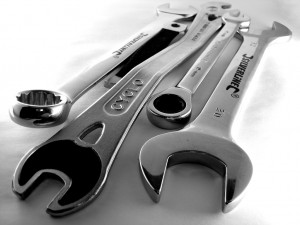 This episode centers on tools that we enjoy using, whether engineering-related or not.
Jeff is of the opinion that many engineering professors dislike teaching "tools" because software packages are constantly changing in scope and syntax, and associated teaching materials must be vigilantly updated.
Reliability is an important characteristic for a good engineering tool, according to Carmen and Adam.
Brian notes the economic foolishness of having an engineer "spin their wheels" due to a lack of quality tools.
Chip-scale packages (CSPs) are mentioned by Carmen as a new technology requiring new tools.
Brian asks about the need for traceability on tools (governed by NIST standards in the United States).
Several communication protocols are mentioned in discussion of oscilloscope features: SPI, CAN, and I2C.
We determine that Bridgeport Machines was acquired by a multinational corporation (Hardinge, Inc.) in 2004.
Adam reveals that transportation departments establish contingency contracts to ensure access to big construction equipment in emergency situations.
We learn about Ball Grid Arrays (BGA) from Carmen.
Brian and Carmen converse about the best wire gage (AWG) for their soldering needs.
The Pragmatic Podcast episode about coffee, produced by former TEC guest John Chidgey, is mentioned as a "must listen" for avid coffee drinkers.
Emissivity is an important issue for those using infrared temperature detection.
Mechanical pencil fans can find plenty of websites dedicated to the subject.
Jeff's tools:

Coffee Mug Warmer
Mechanical Pencil
Eraser

Adam's tools:
Carmen's tools:
Brian's tools:
Thanks to J for use of the image titled "Tools." Podcast theme music by Paul Stevenson.