Podcast: Play in new window | Download
Subscribe: Apple Podcasts | RSS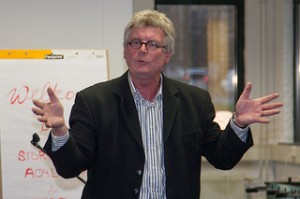 We talk with mechanical engineer, product designer, educator, and executive consultant Craig Sampson about the importance of storytelling in this episode of The Engineering Commons podcast.
Carmen likes the universality of engineering stories, in that all engineers eventually encounter similar difficulties in dealing with customers, managers, and organizations.
In a prior episode of this podcast, guest Bob Schmidt talked about the importance of stories in conveying information about problem-solving methods and approaches.
Our guest for this episode is Craig Sampson, who is founder and principle consultant for TBD Innovation.
Jeff and Craig were classmates at Stanford University in the early 80s, while both were taking the Smart Product Design (ME 218 A/B/C) sequence of classes.
Craig was good at math and science in high school, so he gave engineering a try at the University of Colorado.
Jeff and Craig joke about programming in FORTH during their Stanford days.
Larry Leifer led the Smart Product Design program during the time that Craig and Jeff were students.
Craig has fond memories of watching a robot arm that performed ballet-like movements to the music of Trois Gymnopédies, composed by Erik Satie.
Also on the Stanford campus at the same time as Craig and Jeff was David Kelley, the founder of Hovey-Kelley Design, which later became David Kelley Design (DKD) and eventually merged with two other firms to form IDEO in 1991.
Craig started the IDEO office in Chicago, which now employs more than 60 designers.
Paul Rand designed the original IDEO logo, which saw various alterations over the years.
Craig finds the term human-centered design (video) preferable to design thinking.
Our guest references a book by Tom Kelley (brother of David Kelley), The Art of Innovation: Lessons in Creativity from IDEO, America's Leading Design Firm.
Joseph Campbell outlined the classic "hero's tale" in his book, The Hero with a Thousand Faces.
Storytelling is the process of making your engineering work relevant in the lives of others, according to our guest, by presenting a believable vision of a better future.
A good book for understanding service design and innovation is Scott McCloud's book, Understanding Comics: The Invisible Art.
Craig is a Senior Fellow at Farmhouse, the Innovation Center for advertising leader Leo Burnett.
Our guest mentions the book, Winning the Story Wars: Why Those Who Tell (and Live) the Best Stories Will Rule the Future.
According to the drawing by Hugh MacLeod, "The market for something to believe in is infinite."
Craig recommends the Dan Pink book, A Whole New Mind: Why Right-Brainers Will Rule the Future, to engineers who think there must be more to life than the daily grind.
Personas are fictional characters that are imagined using a product or service.
Our guest has started a class at Northwestern University, within the Segal Design Institute, called "Designing Product Interactions."
An influential book on addressing human expectations is Don Norman's Design of Everyday Things.
Our ability to integrate visual and auditory information is pushed beyond its limit by the McGurk Effect (YouTube video).
Pareidolia describes human perception of a random stimulus as being significant; this is a form of apophenia.
Synesthesia is the phenomenon that occurs when stimuli normally associated with a single sense activate a secondary sense, such as sensing that numbers have colors, or words have tastes.
Craig notes that our confidence in a product is completely intertwined with our confidence in ourselves.
It is increasingly the case that designers are creating tools, rather than products, for their customers.
SketchChair allows people to sketch out the profile of a chair, which is then delivered as a set of cross-sectional cutouts that can be assembled.
Skeumorphism is the use of a stimulus that is referential to other products or experiences.
Jeff mentions the Dan Saffer book, Microinteractions: Designing with Details.
Our guest encourages all engineers to think about how their work might positively impact the experiences of others.
Craig can be reached at TBD Innovation.
Thanks to René Wouters for the photograph titled "Storytelling Academy #IEDP-42." Podcast theme music by Paul Stevenson.