Podcast: Play in new window | Download
Subscribe: Apple Podcasts | RSS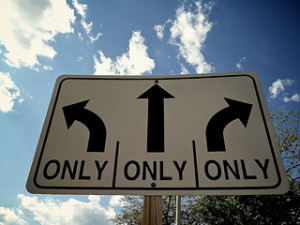 In this episode, we consider how engineers deal with ambiguity, uncertainty, and risk.
Carmen would be willing to take a 50/50 shot at $1001 tomorrow over a certain $500 today. Most people are risk-averse when dealing with gains, and would take the sure money.
According to the article "The Five Neglects: Risks Gone Amiss," (Berger, Brown, Kousky, and Zeckhauser, 2009) rational decision-making is a difficult process. It requires accurate estimations of probability, correct valuation of potential benefits, proper use of statistics, consideration of all available alternatives, and evaluation of external effects.
If you are interested in being a guest on The Engineering Commons podcast, please drop us a note; the email address is admin -=at=- theengineeringcommons.com.
Despite Jeff's offhand mention of seven seconds, there is no "safe" minimum on the unlicensed use of copyrighted music.
Adam was a bit confused when he first encountered the term "CatEx," which is short for "Categorical Exclusion."
It is noted by Carmen that ambiguity in problem definition is sometimes a good thing, as it allows him flexibility in investigating possible solutions.
In a discussion of confusing terminology, we stumble into the long and glorious history of the Turbo-Encabulator. Several videos about the turbo-encabulator have been produced over the years, including a "Rockwell" version mentioned by Carmen.
Techno babble is sometimes used in TV shows to make dialogue sound impressive.
Jeff mentions that he had not come across the term "bodge" wire until he heard it from Chris Gammell.
Brian mentions the faster-than-light neutrino anomoly as an example of data not squaring with well-established models.
The notions of digital power outlets and multimedia FAX machines come from Dogbert's Top Secret Management Handbook, written by Scott Adams.
In a prior epsiode on critical thinking, we talked about respecting the reasonableness and goodwill of those with whom we disagree.
Brian mentions that engineering problem-solving is never as clean and neat as the analyses seen in TV crime dramas.
The role of sustaining engineers is described by Carmen.
A 1993 article titled "Choice over Uncertainty and Ambiguity in Technical Problem Solving" (pdf) considers how engineers might change their problem-solving approach based on the relative levels of risk, uncertainty, and ambiguity.
In the previous episode titled "Value," guest James Travelyan talked about engineers not feeling like they were being productive unless they were carrying out computations, or making design decisions.
A discussion ensues about reality shows involving engineering skills, such as The Big Brain Theory and Junkyard Wars.
Awkward pauses have become a regular feature on Craig Ferguson's late night show.
As an added bonus for show note readers, consider the following mind-bending explanation of a missile guidance system: The Missile Knows Where It Is.
Thanks to Yogesh Mhatre for the photo titled "Ambiguity." Podcast theme music provided by Paul Stevenson