Podcast: Play in new window | Download
Subscribe: Apple Podcasts | RSS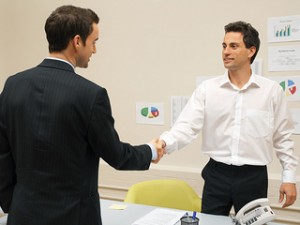 In a discussion with Jim Heilman of Discovery Personnel, a mechanical engineer who left industry after two decades to recruit technical talent in the plastics industry, we examine how engineers can best work with recruiters to further their own careers, as well as to find engineering talent for their businesses.
Following up from the prior episode about design thinking, Jeff notes that a movie titled Designing & Thinking is being shown in selected theaters around the country. Anybody have a review for us?
Recruiters serve as an intermediary between job seekers and employers.
Some of the big job databases online include Monster, CareerBuilder, and Indeed.
Talented individuals who don't really want to be contacted about job opportunities are known as passive candidates. These are the people that recruiters work the hardest to reach.
Jim notes that networking is still the best way to find a new position. Salespeople are good contacts, as they are in frequent communication with other businesses in your industry.
A good reference on networking, and the job search process, is the book What Color is My Parachute?
Jim reflects that he's been able to stay competitive in recruiting because, in the words of Rick Springfield, We All Need A Human Touch.
If you're searching for a job, you need to tailor your resume to the company and job for which you're applying.
When talking with potential employers, try to imagine what they are looking for in an employee, rather than focusing on your own desires for salary and vacation.
It is far more common for new hires to be let go because they don't fit with a company's culture, rather than for technical incompetence.
Jim is of the opinion that listing yourself as a candidate on Monster.com can "cheapen" how potential employers view your services. It is better to respond to a job that has already been posted. However, many recruiters rely on Monster and CareerBuilder to find candidates.
In recent weeks, Jim was looking for an engineer who was familiar with Swiss turning machines, which produce features of very high accuracy.
While a project portfolio is important, the resume remains the best starting point for gaining entry into most companies.
Jim estimates that there are 150,000 recruiters in the United States, and they all have trouble finding candidates that can meet the increasingly specific requirements demanded by employers. Jim likens the process to finding a purple squirrel.
The cost of using a recruiter is steep, often 30% of a candidate's first year salary. Thus, a company working through a recruiter is experiencing a lot of pain, and is anxious to find a qualified employee. This cost is normally paid by the employer, which means that recruiters are generally looking out for the best interests of the hiring firm, not the candidate.
Networking is important when trying to hire engineering talent, as well as in conducting a job search.
As a hiring manager, be aware that recruited employees are only guaranteed to stay with your firm for a short term, often only 30 days. However, Jim estimates the early departure rate for his placements as being fairly low, around 1 in 100.
Jim Heilman can be reached at Discovery Personnel, and you can follow him on Twitter.
Have you subscribed yet? It's the easiest way to hear when there's a new episode. We plan for every 2 weeks. But who can remember that? Just subscribe! Email or RSS reader or Podcatcher.
Thanks to Victor 1558 for the photograph.