Podcast: Play in new window | Download
Subscribe: Apple Podcasts | RSS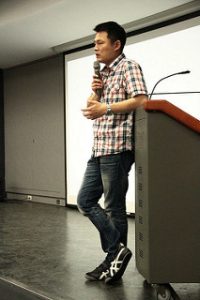 In this episode of The Engineering Commons, the gang discusses tailoring a presentation to meet the needs and interests of your intended audience.
Adam's favorite form of communication is an old-fashioned face-to-face conversation.
The data throughput of smoke signals is a bit too slow for Carmen's needs.
Jeff suggests flag semaphore as an alternative means of communication.
When Carmen suggests that engineering involves "blowing stuff up in the lab," Jeff and Adam insist on additional details.
The group sarcastically agrees that PowerPoint is the answer for solving all communication problems.
Brian notes the difficulties of trying to dig into technical issues when the audience is a mixture of technical experts and non-technical stakeholders.
A discussion ensues concerning why engineers end up in meetings, and the communication objective of various meeting types.
Adam pounces when Carmen utters the phrase "controlling the narrative."
"Dwight's Speech" (YouTube) from the US television show "The Office" is referenced by Brian.
Brian points out that, in an effort to be honest and transparent, engineers tend to highlight the limits of their knowledge when dealing with non-engineering colleagues.
An article titled "Consider Your Audience" is mentioned by Carmen.
Carmen also references an article with presentation tips for engineers.
It's important to present information in a manner that is easy for the audience to follow, rather in rigid chronological order, notes Jeff.
An intentionally bad PowerPoint presentation (from the University of Wisconsin) is mentioned by Carmen.
A possible middle ground between minimalist presentations and fully-detailed reports are the concept of Slidedocs.
Thanks to Forgemind ArchiMedia for providing the photo titled "2013-0703 北科大建築營建築講座 – 楊恩達主講 21." Opening music by John Trimble, and concluding theme by Paul Stevenson.